For Parking Lot Sealcoating, Atlanta GA Trusts Wildcat Striping, Sealing & Paving!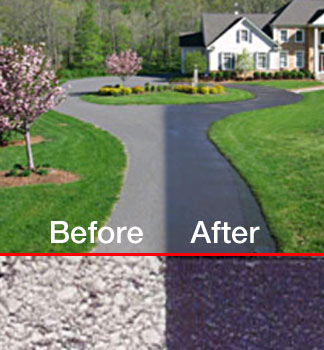 Looking for an effective treatment to protect your Atlanta parking lot? Sealing the surface with a specially-mixed asphalt sealcoat is the way to go. You can spend thousands of dollars constantly repairing cracks and surface damage or prevent all that with a sealant. Or you can get sealcoating from your local paving experts: Wildcat.
The paving pros at Wildcat Striping, Sealing, and Paving use a commercial-grade sealer with additives that enable your pavement to resist wear and tear for years to come. We'll tailor your maintenance services to your needs, including specially-mixed asphalt and coal tar emulsions.
Why You Need Professional Asphalt Sealing
When exposed to oxygen, asphalt binder (tar) undergoes hardening, causing the surface to become brittle and prone to cracking and deterioration. These cracks create pathways for rainwater and oxygen to seep into the pavement layers and sub-base, weakening structural structures. As the pavement's integrity is compromised, it becomes susceptible to breakage, further deterioration, and the formation of potholes.
Benefits of Parking Lot Sealcoating
This cost-effective asphalt service has many advantages to extend the life and appearance of your commercial pavement.
A sealant prevents oxidation, reduces exposure to oxygen and water, and fills gaps in the parking lot surface.
Sealing your parking lot protects against pavement deterioration, crumbling, and shrinking. It provides resistance to elements that can soften the tar and expose the aggregates.
Asphalt seal-coating enhances the parking lot's appearance by restoring the original jet-black color, which creates a dark surface for reflective traffic line striping.
Seal-coated pavement is easier to clean and maintain, reducing property maintenance costs.
It's also a great service to add onto crack filling or other minor parking lot repairs to create a smooth, uniform appearance and lock in repair compounds.
Trust Wildcat Striping, Sealing, and Paving for your parking lot sealcoating needs and extend the life of your Atlanta asphalt pavement!
With over 40 years of experience in Atlanta, our trained paving contractors have the right services to transform your asphalt pavement and protect it from wear and tear. We're proud to serve commercial property owners in Georgia communities like Decatur, Sandy Springs, Lawrenceville, Roswell, Snellville, Douglasville, Conyers, Alpharetta, Marietta, and the surrounding communities.
For parking lot sealcoating, Atlanta, GA commercial property owners trust the Wildcat paving contractors. Protect your asphalt investment with the latest sealers applied by professionals. Contact us for a quote!