Sealcoating Atlanta Asphalt: Protection against asphalt deterioration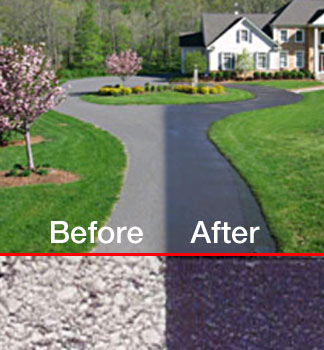 Sealcoating is an effective treatment to protect your asphalt investment. Wildcat Striping, Sealing and Paving uses commercial-grade sealer with additives that enable your asphalt to resist leaks and offer protection against cracking and weakening.
Asphalt binder (tar) hardens when it's exposed to oxygen. This results in a brittle surface that will eventually crack and deteriorate. These pavement cracks allow rainwater and oxygen to penetrate the asphalt pavement and its sub-base and shorten the pavement life by weakening it. Sealcoating has many advantages to extend the life and appearance of your asphalt pavement.
Sealcoating prevents oxidation, reduces pavement exposure to oxygen and water and fills asphalt surface gaps.
Sealcoating asphalt pavement ultimately protects against deterioration, crumbling and shrinking of the pavement. It provides resistance to elements that can soften asphalt.
Sealcoating enhances asphalt appearance by restoring the original jet black color of the pavement. Sealcoated pavement is easier to clean and maintain, and offers a solution to keeping your asphalt smooth and extending the overall life of the pavement.
We offer both coal tar and asphalt emulsion sealers.
Protect your asphalt investment, contact us for a quote on sealcoating your asphalt pavement.
Wildcat Striping, Sealing and Paving For Parking Lot Sealcoating Atlanta